IUHW Mita Hospital accredited by JCI
IUHW Mita Hospital has received JCI (Joint Commission International) accreditation. JCI is a globally recognized hospital accreditation that supports medical/health care organizations by offering various sets of standards which guarantees patient safety and best practice in quality.
So far, 808 health care organizations in over 60 countries have been accredited, and 14 organizations (including 11 hospitals) are in Japan .*
*Source: JCI home page, as of Jan. 5, 2016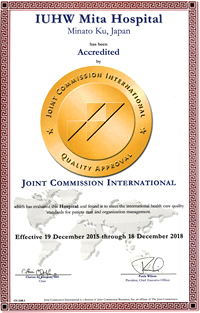 What is JCI?
JCI was founded in 1994 as the international version of the Joint Commission (an authoritative organization accrediting medical institutions in the U.S.A.).
The approval status of the hospital category depends primarily on whether the organization has met more than 90 percent of the required standards out of more than 1,140 elements spread over 14 chapters. JCI requires organizations to be reaccredited every 3 years.
The first chapter, regarded the most important, refers to IPSG (International Patient Safety Goal) and consists of the following 6 goals:
Identify patients correctly
Improve effective communication
Improve the safety of high-alert medications
Ensure correct-site, correct-procedure, correct-patient surgery
Reduce the risk of health care-associated infections
Reduce the risk of patient harm resulting from falls
The following is a comment from Satoshi Ogawa, Honorary director of IUHW Mita Hospital:
For nearly 2 years, all employees at Mita Hospital, from doctors, nurses, medical professionals to administrative staff, have strived to improve the quality of medicine and enhance patient safety following JCI guidance.
In December 2015, 3 examiners conducted reviews on documents for medical practice policy and procedures, patients' record review and then ran a full-fledged inspection of the entire hospital and its facilities. They concluded their evaluation by stating that they "acknowledge that the healthcare quality and patient safety level at Mita Hospital meet JCI standards. We will strongly recommend Mita Hospital's accreditation to our headquarters in Chicago."
We are confident that the medical services we offer has improved greatly through our effort to obtain JCI accreditation and we are also proud of having established an evaluation system where medical quality and patient safety will continue to develop even further.
Accredited by JCI, IUHW Mita Hospital will ceaselessly make efforts in raising the standard of medical quality and patient safety.
JCI Re-accreditation
IUHW Mita Hospital was accredited by JCI in December 2015 for the first time. As JCI requires accredited organizations to become reaccredited every three years, IUHW Mita hospital was resurveyed in December 2018, and received official notification of re-accreditation from JCI and re-accredited by JCI. Compared to the first-time survey, re-accreditation had to be met stricter criteria. All our staff did make all-out efforts to improve the mission of JCI, "patient safety and quality of health care" in particular, which led to JCI re-accreditation this time.